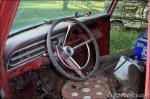 Not much left on the interior of the '68...but I'll grab everything useable. This shot was taken after the removal of the factory underdash air-conditioning unit.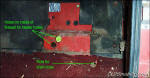 Here's a shot of the holes in the inner firewall to accommodate the AC and heater hoses...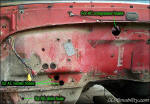 ..and a shot of the outer firewall with holes for the AC and heater hoses marked.
Above: Here's a shot of the field where the parts trucks are located. A good friend of mine has had these sitting around for some time now and was willing to let me scavenge parts, before they set so long they become useless. (THANKS RAY!!) Both trucks were his work trucks in the past, and he's told me a few stories about adventures he's had in them.
The red F-100 on the trailer is a '68. The above shot was taken several days after I'd removed the front clip, with the intent of using the inner fender aprons and radiator support. They're not perfect, but they're not too bad. The radiator support area behind the driver's-side headlight does have rust which I'll cut out and replace, and the top of the support is bent over a tad...no problem. I also scavenged the passenger side door (no rust!), the factory underdash AC unit (pictured below), the stock AM radio (just in case) and all the emblems, including the 390 emblems from the front fenders. I plan to also get the front big-block springs, the automatic steering column and power steering box, the dash cluster (for parts), the power brake booster and the Dana rearend, which I believe is a posi-trac. Since he simply intends to use the remains of this truck to build a box trailer for farm use, I'll be keeping the Dana posi and replacing it with the 8-3/4" Ford version from my '67.It's an afternoon's worth of work to swap the rearends, but very worth it. (I just wish I had more storage space...I'd also take the hood.)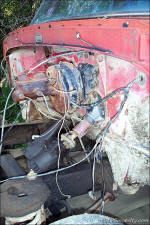 Still a few useable parts here. This is a Bendix-style steering box which will make converting my column-shift 3-speed to power steering a bolt-in job.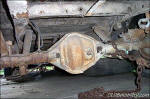 I'll also be swiping the Dana posi-trac, since the remains of this truck will be turned into a box trailer.