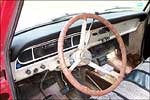 Fig. 3 - Interior
Much of this interior will be salvaged and installed into a replacement cab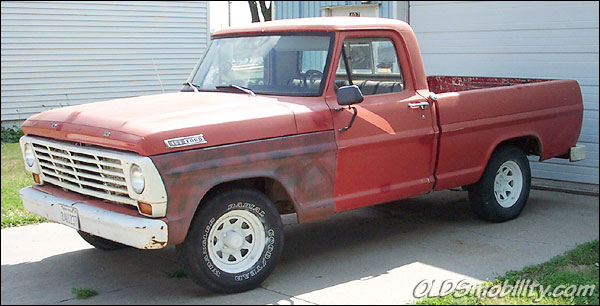 June 24, 2003 - I've been keeping my eyes open for an older Ford pickup to use as a daily driver and yesterday saw this one in a local front yard with a For Sale sign in it. The seller was asking $800 for it, I offered $600...we settled on $700. I drove it to the shop (about 6 blocks away) a few minutes later.
This truck is equipped with a 240cid inline 6-cylinder, with a column-shift manual 3-speed. This is about as basic as a pickup can get, with manual steering and manual drum brakes. While at first glance it appears to be pretty solid, let me assure you that it's gonna take a little work. While the box is in pretty good shape, the cab is probably going to need to be replaced. The floorpans are virtually non-existent, the cab corners are toast and have been gooped up with fiberglass patches by a previous owner, the cab supports are rusted away at both sides, and the right front cab mounting point is completely gone! There's a piece of 1x4 lumber between the frame and cab on the passenger side holding it up. The white spoke wheels are (were) rusted and pitted, and the previous owner shot them with a white rattle-can paint job...you can see the overspray on the tires. The 6-banger runs great, however...although the clutch definitely needs some adjustment, as the vibration you get when you put it into gear and let out on the clutch will rattle the teeth out of your head!
Basically, I thought it was worth the money paid. I believe I can get a good cab from somebody who owes me a favor, so it's just going to take a couple weekends worth of work to replace it and a few other things here and there, like the rusted-away rear bumper. (The front bumper is in great shape!)