TSB #146 - August 7, 1970
(Trucks Equipped with Detroit Diesel 8V-71 Engines - 1969 and Prior Models)
---
A new clamp assembly is available to reduce vibration of the lubricating oil filter, mounted horizontally below the cylinder block; and to prevent possible damage to the oil cooler to cylinder block gasket. See Figure 18.
The clamp assembly (5113766) is mounted vertically at two tapped holes in the side of the cylinder block. The clamp bracket is secured to the block with two 3/8"-16 x 1" bolts and washers. The lubricating oil filter shell is kept from transverse vibration by an upper and lower clamp held in place with a pinned bolt.
To remove the shell, it is only necessary to loosen the bolt and swing the lower clamp from the filter shell. When replacing the shell, put the lower and upper clamp in position on the shell and tighten the pinned bolt.
Parts should be ordered from the Detroit Diesel Distributors. Detroit Diesel dealers have been advised of this improvement in their Service Technical Bulletin 70-T-10.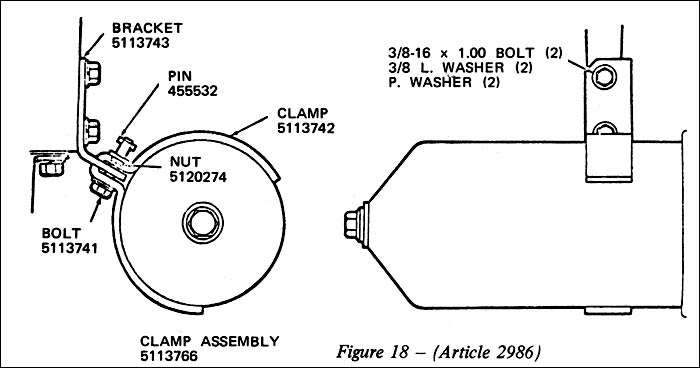 PARTS:
| QTY. | PART NO. | PART NAME |
| --- | --- | --- |
| 1 | 5113766 | CLAMP ASSEMBLY, OIL FILTER |
| 1 | 5113743 | BRACKET, CLAMP |
| 2 | 5113742 | CLAMP |
| 1 | 5113741 | BOLT, DRILLED (5/16-18 x 11/2") |
| 1 | 455532 | PIN 1/8" x 1/2" ROLL |
| 1 | 5120274 | NUT, PLUG |
| 1 | 103320 | LOCKWASHER, 5/16" |
| 1 | 103340 | WASHER, 5/16" |
| 2 | 179839 | BOLT, 3/8"-16 x 1" |
| 2 | 03321 | LOCKWASHER, 3/8" |
| 2 | 103341 | WASHER, 3/8" |
PRODUCTION CORRECTION: Service only.
WARRANTY STATUS:
Reimbursable within the provisions of the Detroit Diesel Warranty Manual