TSB #146 - August 7, 1970
(F-600 Trucks with 330 HD Engine - 1970½)
---
The C-6 Automatic transmission has been released for certain F-600 trucks equipped with the 330 CTD engine and restricted to service application below 17000 pound GVW.
The required service information pertaining to these vehicles is shown below and in Figure 8.
Oil Pan Removal:
The engine rear mounts must be loosened and the rear of the engine raised approximately 1/2 inch to remove the transmission oil pan.
Fluid Level Check:
Every 6,000 miles.
Band Adjustments:
First 6,000 miles and every 12,000 miles after.
Accelerator Linkage Adjustment:
The accelerator linkage and adjustment procedure is shown on Figure 8.
Transmission Removal:
The transmission can be removed from the vehicle without removing the engine. However, it will be necessary to remove the L.H. No. 1 body mount bolt and raise the L.H. side of the body approximately 1-5/8 inches. The transmission then can be removed by tilting the front end of the transmission down approximately 5 degrees so the top of the transmission mounting flange clears the cab floor reinforcement. Equipment required will be Rotunda Transmission Jack LRE 1780 and a screw type floor jack (to lift body).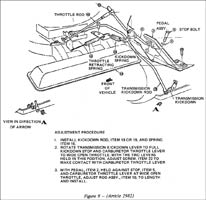 Figure 8
WARRANTY STATUS:
INFORMATION