TSB #131 - January 16, 1970
(All 1965 through Present Cars and Trucks with Ford Design Power Steering Pumps)
---
An out-of-flat flange on the power steering pump inner housing (3A643) results in unsatisfactory pump operation and is the most frequent cause of unsuccessful pump repairs.
An out-of-flat housing flange allows an incomplete seal between the housing flange, the gasket and the housing plate. This can cause aeration of the hydraulic fluid. Symptoms of fluid aeration are characterized by pump noise (moan), foaming and overflow of fluid from the filer tube or loss of hydraulic steering assist.
Before disassembling housing from housing plate, check the torque of the four (4) housing to housing plate screws or alternate bolts. Torque must be 20 lb. ft. minimum. If one or more of the attaching screws or bolts are below this torque, torquing to the following specifications could eliminate the cause of the problem. Screw and washer assembly 28-32 lb. ft. - bolt hex washer head 38-47 lb. ft.
If housing screws or bolts were torqued to 20 lb. ft. or more, then a check of the housing flange flatness should be made, as follows:
Disassemble the housing from the housing plate and inspect the gasket carefully. The housing, when assembled, compresses the gasket and makes a visible imprint pattern on the gasket. Skips or gaps in this imprint indicated a leakage path at that contact point of housing flange and housing plate. (See Fig. 4.)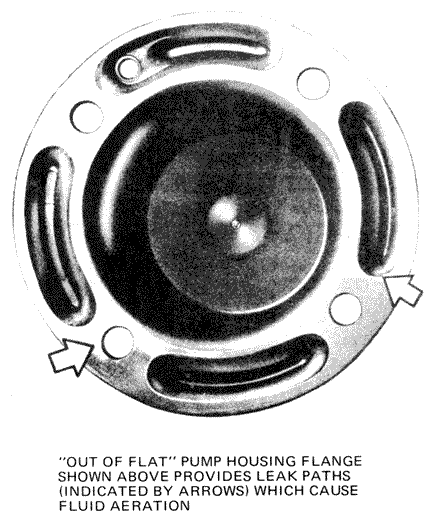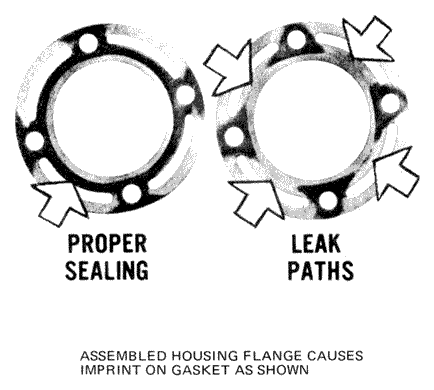 Figure 4
Use of the new thicker gasket, with its improved sealing characteristics, should be tried to correct the loss of seal contact caused by an out-of-flat housing flange. This gasket (C9AZ-3A760-A) is now available and is offered in packages of (10) pieces or in the latest overhaul seal and gasket kit.
In instances where the attaching screws were found to be properly torqued and where a leakage is evident that cannot be corrected by the use of the new gasket (C9AZ-3A760-A), the inner housing must be replaced.
NOTE:
The above procedures with warranty status were outlined in TSB No. 120, Article 1897, Noisy Power Steering Pump, dated August 1, 1969.
WARRANTY STATUS:
INFORMATION ONLY