TSB #127 - November 21, 1969
(All 1970 Model Cars)
---
Reviews of vehicles built prior to September 2, 1969 revealed some loose front outboard seat belt retractor covers and improperly installed plug buttons. Loose front outboard seat belt retractor covers can be corrected by removing the cover and applying heat to the inner face of the cover with a heat gun (do not use open flame). Slowly move the heat gun in a circular motion until the plastic becomes pliable enough to reshape. Squeeze the sides together until the cover snaps firmly on the retaining ears of the retractor.
If difficulty is experienced in moving or installing the plug button when servicing vehicles, rework the button by removing two retaining tabs as shown in Figure 6.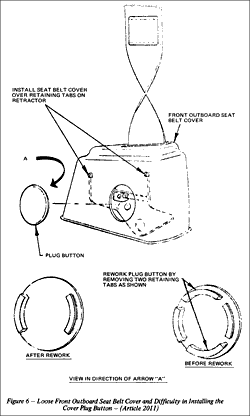 Figure 6
NOTE:
All seat belts are coded by the manufacturer, and legal requirements make it mandatory that seat belts be removed and replaced in complete sets.
WARRANTY STATUS:
Reimbursable under the provisions of the Warranty and Policy Manual.
Operation: SP-61106-A-70
Time: One or Both - 0.3 Hr.
DLR. CODING: Basic Part No. 7611A70 - Code No. 33