TSB #127 - November 21, 1969
(All 1970 C-4 Automatic Transmissions except Falcon)
---
Problems of delayed reverse engagement or erratic downshifts may be caused by the retainer located between the downshift valve spring and the low servo modulator valve being installed incorrectly and/or dropping out of position. Remove the main control assembly and check the position of the retainer as shown in Figure 4. Retainer mislocation would allow the downshift valve spring to act on the low servo modulator valve creating shifting problems. If the retainer is mispositioned, install it per 1970 Shop Manual, Page 17-02-23.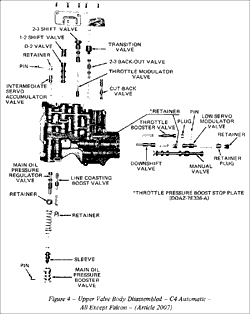 Figure 4
- Click to enlarge
PRODUCTION CORRECTION: November 5, 1969
WARRANTY STATUS:
REIMBURSABLE
Operation: SP-7336-A-70
Time: 1.2 Hrs
.
DLR. CODING: Basic Part No. 7E336 - Code No. 59