Moderator: Ranchero50
New Member

Posts: 2
Joined: Mon Mar 07, 2005 1:44 am
Location: California
want to purchase headers for 68 f250cs 2wd auto.any suggestions out there?
---
Preferred User

Posts: 282
Joined: Sun Jan 23, 2005 7:07 am
Location: Albany, Oregon Territory
Jegs.com Or Summitracing.com

You didn't say what engine you have. They both have different brand headers on their sites, for many engines.
1968 F100 Took the running 390 out, and installed a Built 300 with AOD.
Engine Video...
http://youtube.com/watch?v=2xgYd2u79NU
---
New Member

Posts: 134
Joined: Mon Feb 21, 2005 8:51 pm
Location: California, Modesto
Contact:
Hedman has the plain painted(#89100) and the Elite ceramic coated(#89810), I'm assuming it's a 360/390.
---
New Member

Posts: 154
Joined: Mon Jan 31, 2005 6:30 pm
Location: Washington, Tacoma
Contact:
Here;s a suggestion for ya....DON'T BUY DYNOMAX!!! Don't ask how I know....
---
New Member

Posts: 2
Joined: Mon Mar 07, 2005 1:44 am
Location: California
oops, forgot to tell ya its a 360.keep hearing about gas tank interferance with headers on this model.


---
New Member

Posts: 75
Joined: Sun Feb 06, 2005 2:37 am
Location: Washington, Everett
I assume you're talking about the Camper Special auxilary tank. The tank doesn't interfere with the headers but rather the plumbing of the dual exhaust. But reading all of the catalogs I have noticed that all of the FE truck headers are not compatible with the Camper Special front sway bar. I've never seen a 67-72 CS sway bar so I don't know. I have seen a 74 CS F-250 but the sway bar came off the front of the I-beams so I don't know how this could affect the headers.

My Photo Album
---
100% FORDified!

Posts: 1592
Joined: Mon Jul 19, 2004 7:38 pm
Location: Black Hills
Some of them have a sway bar that bolts between the radius arms. Also most applications on headers are for 69 and up due to the clearance around the Bendix power steering and the fact that the drivers side engine tower is made a little different on the 67-68.
Great ideas have always encounter violent opposition from mediocre minds.
---
Site & Forum Admin

Posts: 8037
Joined: Sun Jul 11, 2004 12:52 am
Location: Nebraska, West Point
Contact:
Barry (68F250) just forward these pics to me...thanks Barry! These show the factory front sway bar...the kind which spans the area between the radius arms behind the front axle area, instead of mounting in front off the I-beams like most aftermarket kits are. However, very few of the Camper Specials from our era got one of these, and Barry told me that he thought only the 1-ton Camper Specials (F350s) would have had one of these installed from the factory, but he wasn't 100% sure. He said he's seen them mounted a lot on a lot of post-'72 Supercabs.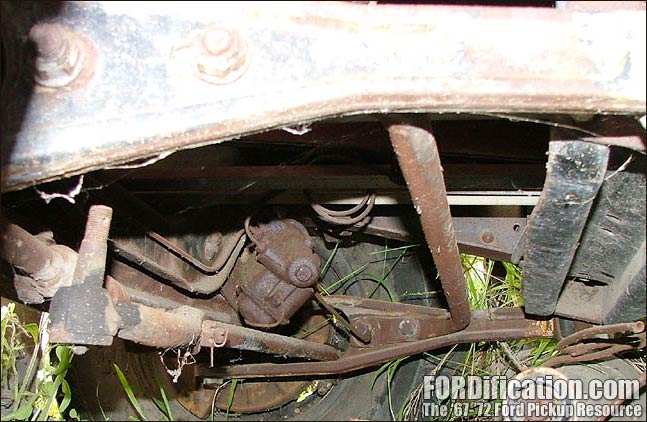 In the following pic, you can also see that the radius arms are much beefier than the standard pieces, and the holes drilled for the swaybar are slotted.
Because these swaybars mount behind the front axle area, they would interfere with header installation, but if your truck doesn't have one of these, you'll be OK.
...and as Ford_Doctor mentioned, the tank interference issue was on trucks equipped with the 25-gallon in-frame auxiliary fuel tank. Since there wasn't room for the left-side exhaust pipe, you couldn't run dual exhaust unless you ran both pipes down the passenger side....or ran the left-side pipe outside the frame. The '67 F250 Camper Special I just bought had this setup. It would seem to work well, except that you'd have to run wheels with a greater offset, for additional clearance for the pipe between the tire/wheel and the rear springs...unless you had the pipe exit before the rear axle. Take a look at the pics I took of this exhaust setup:
http://www.fordification.com/images/67-2_day2-04.jpg
http://www.fordification.com/images/67-2_day2-05.jpg
http://www.fordification.com/images/67- ... tion02.jpg
____| \__
-O-----O-
Keith
'67 F-100 2WD SWB ~ '69 F-100 4WD SWB w/7" chop ~ 1975 F-250 Ranger XLT Supercab Camper Special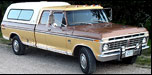 My '67 restoration video
->
Posting and you!
<-a MUST watch for all!!
---
New Member

Posts: 75
Joined: Sun Feb 06, 2005 2:37 am
Location: Washington, Everett
I can see now why that type sway bar would interfere with the headers. I've never seen that style before, and can see why it didn't last long. I'll definetly install the '73-79 style when the time comes.
---
---
Who is online
Users browsing this forum: No registered users