Blue Oval Fanatic

Posts: 790
Joined: Tue Sep 11, 2012 9:59 pm
Location: Duluth, Minnesota
Light I don't know what it is for came with an F500 cluster
You do not have the required permissions to view the files attached to this post.
1969 Ford F100 Styleside standard cab 360 C6
---
100% FORDified!

Posts: 2191
Joined: Thu Sep 09, 2010 5:44 pm
Location: California, Santa Cruz
Contact:
Im not definate but it could be for a highbeam indicator, part of the low air warning system if the truck had air brakes maybe.....
Rich
1973 f350 super c/s 460/c6 22k orig miles
1972 f350 srw crewcab special 390
1972 f250 ranger XLT Camper Special 390
1972 f250 4x4 custom 84k og miles 390
1971 f250 4x4 sport custom 56k og miles. 360
1970 f250 4x4 428 fe hp60 205 d60
Dont eat yellow snow.....
---
Site & Forum Admin

Posts: 8037
Joined: Sun Jul 11, 2004 12:52 am
Location: Nebraska, West Point
Contact:
That's something added on my a previous owner...it didn't come from the factory on that panel.
____| \__
-O-----O-
Keith
'67 F-100 2WD SWB ~ '69 F-100 4WD SWB w/7" chop ~ 1975 F-250 Ranger XLT Supercab Camper Special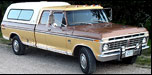 My '67 restoration video
->
Posting and you!
<-a MUST watch for all!!
---
---
Return to "Truck Trivia - Identify This Part"
Who is online
Users browsing this forum: No registered users