Moderator: FORDification
Site & Forum Admin

Posts: 8037
Joined: Sun Jul 11, 2004 12:52 am
Location: Nebraska, West Point
Contact:
You might have noticed that over the past couple days, there have been some instances of pages coming up blank, or that the site itself is running very sluggish overall. It's a problem with our host server, and I'm being assured they're working on it, but that it might be another day or so before it's fixed completely.
____| \__
-O-----O-
Keith
'67 F-100 2WD SWB ~ '69 F-100 4WD SWB w/7" chop ~ 1975 F-250 Ranger XLT Supercab Camper Special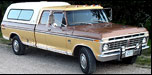 My '67 restoration video
->
Posting and you!
<-a MUST watch for all!!
---
100% FORDified!

Posts: 5289
Joined: Sun Feb 04, 2007 9:52 am
Location: Chatsworth, California
I noticed. I was about to post a thread to see if anyone else was experiencing it.
---
Blue Oval Guru

Posts: 1381
Joined: Tue Nov 27, 2007 8:14 pm
Location: Dallas, Georgia
Contact:
yeah i noticed it to i had to switch over to firefox to get on since IE was extremely slow
David
Dream as if you'll live forever, live as if you'll die today - James Dean
Daily Driver - 1998 Honda Accord
Wife's Ride - 2007 Ford Explorer Sport Trac
Project - My Dad's 1969 F100 Ranger 390 w/ 3spd manual coming soon PS, PB, A/C and alot of paint and body work - Miss you Dad
http://s936.photobucket.com/albums/ad208/69rangerf100/
---
Blue Oval Fan

Posts: 649
Joined: Tue Dec 13, 2005 12:38 am
Location: California, Sonora
I noticed too. I thought I was losing it or something

1967 f100 4x4
1970 f250 4x4
---
100% FORDified!

Posts: 5378
Joined: Thu Jun 10, 2010 8:13 am
Location: USS Gramps Garage (DD-727) Tehama County, Northern Ca.
I was going into withdrawal.

Thanks for the info. Wish I would have looked here before I sent you a PM. You must keep plenty busy keeping up with all this. Thank you.

May your sails stay full, and your knots not slip. Unless a slip knot.
Once I thought I was wrong, but I was wrong.
Life is a banquet, and every days a feast.
68 F-250 CS 390 C-6 P/S A/C front disc. 2nd owner.
2016 GMC Terrain Denali 301 HP V-6 AWD.
2009 Silverado Crew Cab, V-8, 4X4.
DD-727
DD-806
AE-35
LSD-39
AS-41
AR-8
---
100% FORDified!

Posts: 22344
Joined: Sun Aug 28, 2005 8:17 pm
Location: Kansas, Ottawa
Contact:
i guess it was a good time to take off for me then.
---
---
Return to "Site & Forum Announcements"
Who is online
Users browsing this forum: No registered users