Moderator: FORDification
Site & Forum Admin

Posts: 8037
Joined: Sun Jul 11, 2004 12:52 am
Location: Nebraska, West Point
Contact:
Just posted another vintage issue of Ford Truck Times magazine to the
Factory Literature Library
.

Ford Truck Times - Winter 1969
____| \__
-O-----O-
Keith
'67 F-100 2WD SWB ~ '69 F-100 4WD SWB w/7" chop ~ 1975 F-250 Ranger XLT Supercab Camper Special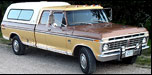 My '67 restoration video
->
Posting and you!
<-a MUST watch for all!!
---
100% FORDified!

Posts: 5988
Joined: Thu Jan 26, 2006 7:11 am
Location: Tennessee, Chattanooga (Choo-Choo town)
Cool stuff Keith!

I never remembered "The Duke" driving a bump in that movie.
Now you did it...yet another movie I'm gonna have to try to find.
Hope to be able to show my step-father that one pic someday, he's a big John Wayne fan.
One whole room in the house with nothing but John Wayne's "artifacts".

Jeff
viewtopic.php?f=22&t=46251
SOLD-71 F-350 dually flatbed, 302 / .030 over V-8 with a "baby"C-6, B & M truckshifter, Dana70/4.11 ratio, intermittent wipers, tilt steering, full LED lighting on the flat bed, and no stereo yet (this way I can hear the rattles to diagnose)! SOLD!
Many Ford bumps / one 76' EB / and several dents through the years.
A lot of "oddball" Ford parts collected from working on them for 34 years now!
2008 Ford Escape 4 x 4
---
New Member

Posts: 135
Joined: Tue Nov 02, 2004 2:19 am
Location: Alaska, Palmer
Contact:
I think that movie is Hellfighters
1970 F100 4x4, 360 FE, NP435, 9", factory 4.10, Homemade 4" lift, 35/12.5R15 MT Baja Claws- ultra budget 4x4 toy
2001 F250 4x4, Powerstroke diesel, auto, 140hp TS Performance chip, AFE cold air intake, hopefully adding soon- Jobe performance cold air intake, CFM+ intake manifold, 4" turbo back custom duals, stage 2 injectors- Daily Driver
Hot Rods have a Ford in front and a toolbox in the back, street rods have a chevy in front and a can of wax in the back- Mr. Offenhouser
07 Harley Davidson Nightster, 1200 with stage 1 programming, RSD intake, straight pipes, and Ape Hangers!
---
---
Return to "Site & Forum Announcements"
Who is online
Users browsing this forum: No registered users