Moderator: FORDification
New Member

Posts: 11
Joined: Wed Jan 17, 2018 4:47 pm
Location: Crest, California
I've been looking across the net for pics of with the same paint scheme as mine. white with a blue (or any color) top. and it seams that it has a color top it also has a color mid or bottom. is there any out there like mine, with just the cab colored?
You do not have the required permissions to view the files attached to this post.
1969 F250 Ranger 390 4spd w/POWER STEERING (no name yet) over 500,000 miles
1956 Willys Jeep CJ5 modified powered by Ford "TONKA"
---
Preferred User

Posts: 353
Joined: Thu Dec 28, 2006 12:08 am
Location: Alberta, Canada
There were a few color options for these trucks. Yours is not unusual with a painted cap. Sometimes the cap was painted the same as the bottom with a chrome/stainless divider down the side as with the Ranger option. It is still classed as a two tone paint job. There were a run of these trucks in '69 that were orange or a darker lime green with a sprayed on fake vinyl cap. They too had a chrome drip rail and chrome siding and was a Ranger package. A rare truck if you can still find them. Maybe others on this site know better than I do but I don't think Ford offered any metallic colors until later model productions in the 70's. All my Fords are solid colors and that is what I remember them all to be.

---
100% FORDified!

Posts: 2203
Joined: Thu Sep 09, 2010 5:44 pm
Location: California, Santa Cruz
Contact:
Sometimes through the years work has to be done on the top of the truck and get painted, either matched to the truck or a different color to make a "two tone" look. I wouldn't be surprised if that blue showed up after some sort of roof repair. Its the same reason my grandpas truck ended up having a root beer brown top on a all white truck.

Rich
1973 f350 super c/s 460/c6 22k orig miles
1972 f350 srw crewcab special 390
1972 f250 ranger XLT Camper Special 390
1972 f250 4x4 custom 84k og miles 390
1971 f250 4x4 sport custom 56k og miles. 360
1970 f250 4x4 428 fe hp60 205 d60
Dont eat yellow snow.....
---
100% FORDified!

Posts: 5985
Joined: Thu Jan 26, 2006 7:11 am
Location: Tennessee, Chattanooga (Choo-Choo town)
Might help with our color question.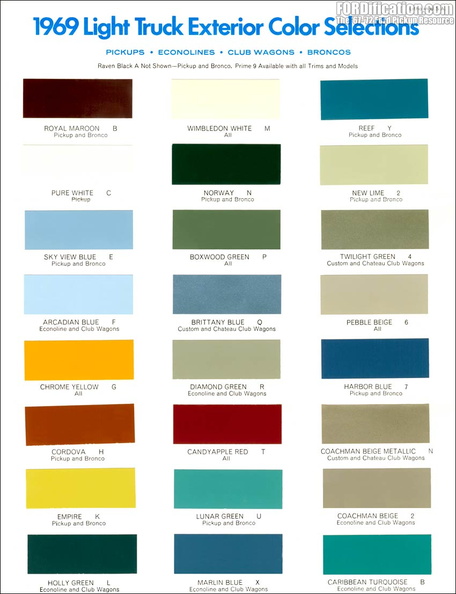 Jeff
viewtopic.php?f=22&t=46251
SOLD-71 F-350 dually flatbed, 302 / .030 over V-8 with a "baby"C-6, B & M truckshifter, Dana70/4.11 ratio, intermittent wipers, tilt steering, full LED lighting on the flat bed, and no stereo yet (this way I can hear the rattles to diagnose)! SOLD!
Many Ford bumps / one 76' EB / and several dents through the years.
A lot of "oddball" Ford parts collected from working on them for 34 years now!
2008 Ford Escape 4 x 4
---
---
Return to "General Discussion"
Who is online
Users browsing this forum: No registered users